Long Island Pulse Magazine
November 22, 2013
Dream Downsizer
Paring the next home down to perfection
Author:
Caroline Wilkes | Published: Friday, November 22, 2013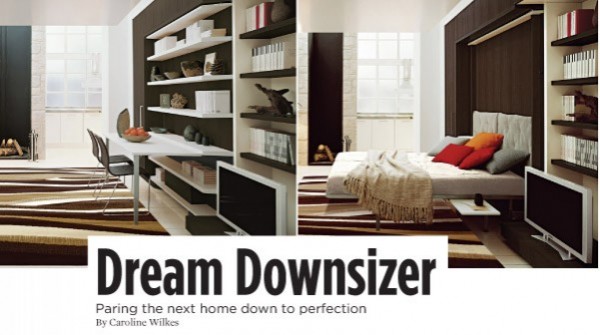 If a smaller home is on the horizon, it doesn't have to mean living in cramped quarters or having too few rooms to accommodate the accoutrements of the former, larger-scale residence. Downsizing to a smaller home, condo or town house brings freedom in the form of less maintenance and usually a lower cost of ownership, as well as an earth-friendly shift to more efficient housing.
Whatever the reason for downsizing-economic, empty nesting, becoming a "snow bird" or environmental-the new abode will most likely be more simplified, especially if the home has recently been built. The current trend in more compact dwellings is based on fresh décor, ergonomic design features and open floor plans. The idea is to capture an easier, entertainment-centric, luxury lifestyle.
Purging
Shedding extraneous items is not only a big undertaking but it can also be emotionally difficult. Cynthia Braun, founder of Lake Grove-based Organize Your Life, is a professional organizer who takes people through the process. "It all comes down to making decisions and this is done by answering the questions, 'Do you love it? Do you use it? Does it have purpose?'" If there is no affirmative response to these questions, it's time to let go. "Starting with a non-personal space in the home such as a coat closet or kitchen is easier than tackling a bedroom where the items are far more personal," Braun said.
Basements and attics are full of items (sometimes belonging to other family members) that people have attachments to, though they never use them. Braun suggested to "honor the item by allowing it to go to another home rather than letting it deteriorate in a damp basement." She encourages creating a photo library of these mementos. "Most people carry a smart phone and can quickly capture and catalog these items and then they are ready to let it go." Braun uses another trick to show homeowners opportunities for slimming down. "If like items are grouped together it becomes instantly clear things are in excess." Cumbersome sets of furniture with large pieces such a dining room breakfront can be sold if it has value or donated to another family who can use it. "I look at the floor plan of the new home and immediately see what's filling their current home simply won't fit in the new one." The idea is to retain just a few pieces, those that are the most meaningful and the best quality and style, and appreciate them more without all the surrounding clutter.
Space Planning
Less square footage and fewer rooms in a home often means crafting "flex space" with furnishings that do double-duty. "It's necessary to segregate different spaces in a room, make furniture groupings and choose pieces wisely," said interior designer Lori Miller of Lori Girl Creations in East Bellmore. If a formal dining room is not part of the plan, choose one aesthetically pleasing dining table for everyday use that extends with leaves as needed.
Some modern tables have leaves that store within the table frame relieving the need to stow these sections in a closet. Giving a kitchen countertop a mere 18-inch overhang for bar stools creates a fun, new gathering spot and can make up for a lack of breakfast nook. The Murphy bed prevails as an ingenious, foldaway concept when a bedroom must double as an office. Modern versions operate more smoothly than their predecessors and many do not require tucking into a wall but transform into another piece of furniture instead. Similarly, a sleek, low-lying media console with storage can conceal anything from linens and china to books and photo albums. A chic, upholstered daybed strewn with fancy pillows in the living room is seating by day and a cozy spot where a guest can sleep by night.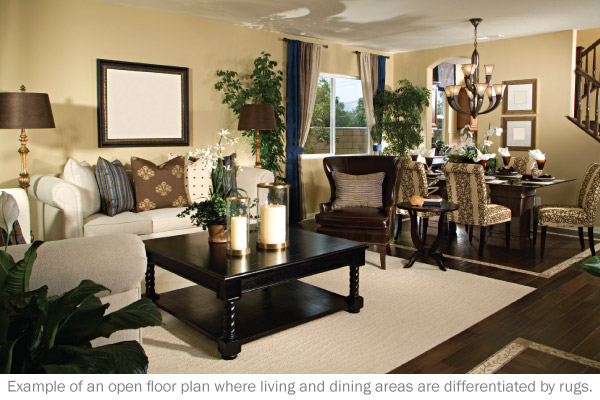 Some approaches to having super-stylish functionality might include placing a soaking tub in the bedroom-not the bathroom-or using a bench or built-in banquet on one side of a dining table as a streamlined alternative to the clutter of multiple chairs. A floating, wall-mounted vanity cabinet in a small bathroom won't eat up floor space thereby maximizing the perceived size of the room. Miller swears by simple, space-saving solutions, "I always use storage ottomans and also like building drawers on wheels to slide under beds." She has other clever ideas: "A beautiful, high-end bedroom often has a decorative fabric draped behind the bed's headboard. By leaving a large enough gap from the wall, there is a hidden place to hang clothing." Braun also advocates planning for storage and recommends adjustable shelving with labeled bins in closets and other areas, as well as hanging as many things as possible. "Everything must have a place," she said
Unified, Expansive Design
To avoid a choppy, frenetic feeling, adhere to a cohesive decorating style and unify the flooring and color scheme throughout the main space. Stick to one family of colors and choose two or three complementary hues as accents. Keep colors on walls and large furnishings (like a sectional sofa) neutral and on the lighter side. Use interesting area rugs to infuse personality with pattern and texture-they also help differentiate areas where walls don't exist to delineate spaces. Since floor space is limited, capitalize on expanding and enhancing walls by working with ceiling surfaces. If possible, opt for an open floor plan and vaulted ceilings with skylights to maximize space and light overhead. Or add these elements if not already there. The bonus loft space found in many two-story condominiums can also contribute to a feeling of openness.
Even though the home is smaller, think big. Using only a few oversized furnishings in a small room creates a relaxed sense of space and comfort, rather than one cluttered with stuff. Large windows call attention to the view outside, extending the range of vision, but if the specs of the windows can't be controlled or altered work with treatments to create the illusion that windows are larger than they are. Similarly, pulling the interior design scheme out to a terrace, patio or screened-in porch helps create the feeling the living space is larger than it is. The magic of mirrors, an age-old decorating tip in making a smaller space feel larger, endures. Be it ornately framed or cladding door fronts and walls, use elegant treatments including beveling, applied wood molding or an intricately carved panel to bounce light and images around and render the visual parameters wider.
Luxury
Take full advantage of the lower cost to renovate with high-end finishes in a smaller dwelling. Add a fireplace to the bedroom, dining room or master bath-a treat that's easily achieved with the new gas and electric ventless styles. Hire an artist to embellish a wall or ceiling with a custom design, or a carpenter to add architectural details. Splurge on an exquisite wall covering to create an unforgettable feature element. Perfect for small bathrooms, use a gorgeous piece of onyx to top a small vanity, choose from a myriad of marble mosaic floor tile in classy configurations or cover one wall with shimmering glass or metal tiles. "A luxurious downsizer calls for custom details that give personal expression to the home," said Miller. "Luxe accents such as a plush area rug, fine window treatments and high-end accent furniture like a bar cabinet made of exotic zebra wood or a highly lacquered end table add the polish." Use a gallery style approach to complete the interior with original artwork and carefully collected accessories. No matter how diminutive the downsizer, any home can be stylish and impressive. The key is to make every single thing that crosses the threshold count.
Author: Caroline Wilkes


Caroline Sophia Wilkes is an interior designer who also writes about design trends. From Manhattan to Montauk, this native Long Islander derives inspiration from the dynamic forms and energy of the city to the organic serenity of our land- and seascapes.
carolinewilkesinteriors.com/