My Biography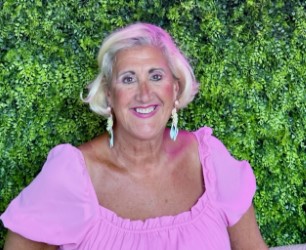 I have been organizing people's homes since I was a young girl. My first job, at age 16, was at a lawn service company on Long Island, which hired me to re-organize and update their filing system. I did such a great job in the month I was there, that I was no longer needed.
After receiving my MBA graduate degree from Adelphi University, I attended the Metropolitan School of Interior Design. I now combine my experience and education and combine it with organizing with Design in Mind.
Prior to professional organizing, I worked for Fortune 100 companies in marketing. Now I employ the principles of organizing to enhance the lives of others through the design of systems and processes.
I enjoy organizing immensely. In doing this I have helped my clients enjoy such a great feeling of accomplishment. They, too, are so very satisfied since their lives became simpler and less stressed. Now they function more efficiently which makes their lives easier to manage on a day to day basis. They also feel their homes are more appealing.
Over the years, I developed a level of mastery in organization and became an inaugural Certified Professional Organizer® in 2007, an accomplishment I am proud of as there are only a few hundred of us in the world.
In addition to my passion for organizing, I add a creative flare to your home in the art of decorating. I enjoy nothing more than to turn a cluttered home into a beautiful environment where it becomes a place where you can finally breathe and enjoy your home.
I am known to pay attention to detail and understand the emotional and psychological issues in dealing with clutter. In addition to running my own company for 19 years, I am a wife and mother of 2 children and knows first hand how important it is to be organized.
Smart organization for smart living
Cynthia Braun, eliminating clutter is a way of life. Cynthia tackles organization with a 360-degree approach, streamlining the homes, schedules and daily lives of discerning clients. Equal parts affable and type A personality, Cynthia's tough-love approach yields real results and lasting change. Learn How To Let Go is a key to uncluttering homes and offices on Long Island!
Definition of a Professional Organizer
A professional residential organizer is an individual that provides hands-on organizing, consulting, coaching, workshops, seminars and/or products to help individuals to become organized and maintain a system of organization that best suits their needs.
As Defined by NAPO: A professional organizer enhances the lives of clients by designing systems and processes using organizing principles and through transferring organizing skills. A professional organizer also educates the public on organizing solution and the resulting benefits bringing Peace, Balance and Harmony To Everyday Living
"Your profession is not what brings home your paycheck.
Your profession is what you were put on earth to do with
such passion and such intensity that it becomes spiritual
in calling." ~~~~~Vincent Van Gogh~~~~~
"Whether you think you can or think you can't you're right"
Henry Ford
Cynthia is a great believer that clutter can hold a person back from becoming all that they can be and living the life they really want to live and she is passionate about helping people regain balance, harmony and well-being through greater organization and time management
Cynthia is an active Golden Circle member of the National Association of Professional Organizers on the national level and the NAPO-LI ( POLI - Professional Organizers of Long Island) and has been instrumental in starting a the group for professional organizers here in Long Island. I am the past Marketing Director for NAPO Education committee.
I am an active member of Interior Design Society of Long Island (IDS) and am a member of the National Association of Professional Women (NAPW)
As we organize our homes and offices and belongings and time, we also organize our minds. As we feel more organized mentally, we feel better emotionally. As we feel better emotionally, we are more able to set and reach our goals.
When people ask me what I do I say" I help people use the space in their home more efficiently so that they have more room & logical space for everything
Mission Statement
Cynthia Braun, Professional Organizer and certified Feng Shui Consultant
To help people harmonize and balance their lives through their spaces and to empower themselves and their own goals and enhance creativity.

To teach people about Organizing and Feng Shui principles & honor their home and life.

To acknowledge that Professional Organizing and Feng Shui are recognized as strong and powerful tools and is growing identity accepted as a professional design services for everyone.

To be selective on work that I choose to do that really stimulates me.

To observe without judgment and be very conscious of others spaces

To promote prosperity and happiness for all peoples' spaces.


Me and my husband
(webmaster)


My organized family


Picture of me with famous author and well known veteran in the organizing industry

Julie Morgenstern



August 9, 2012
Container Store Gala Party in Westbury

This is me with the CEO, Kip Tindell



Organizing a ribbon drawer